SUPERIOR SHINE FOR YOUR VEHICLE WITH ARMOR LIKE PROTECTION!
TRY IT TODAY FOR 49% OFF!
REPELS WATER, GREASE, GRIME AND MORE!

ECO-FRIENDLY, MADE IN THE U.S.A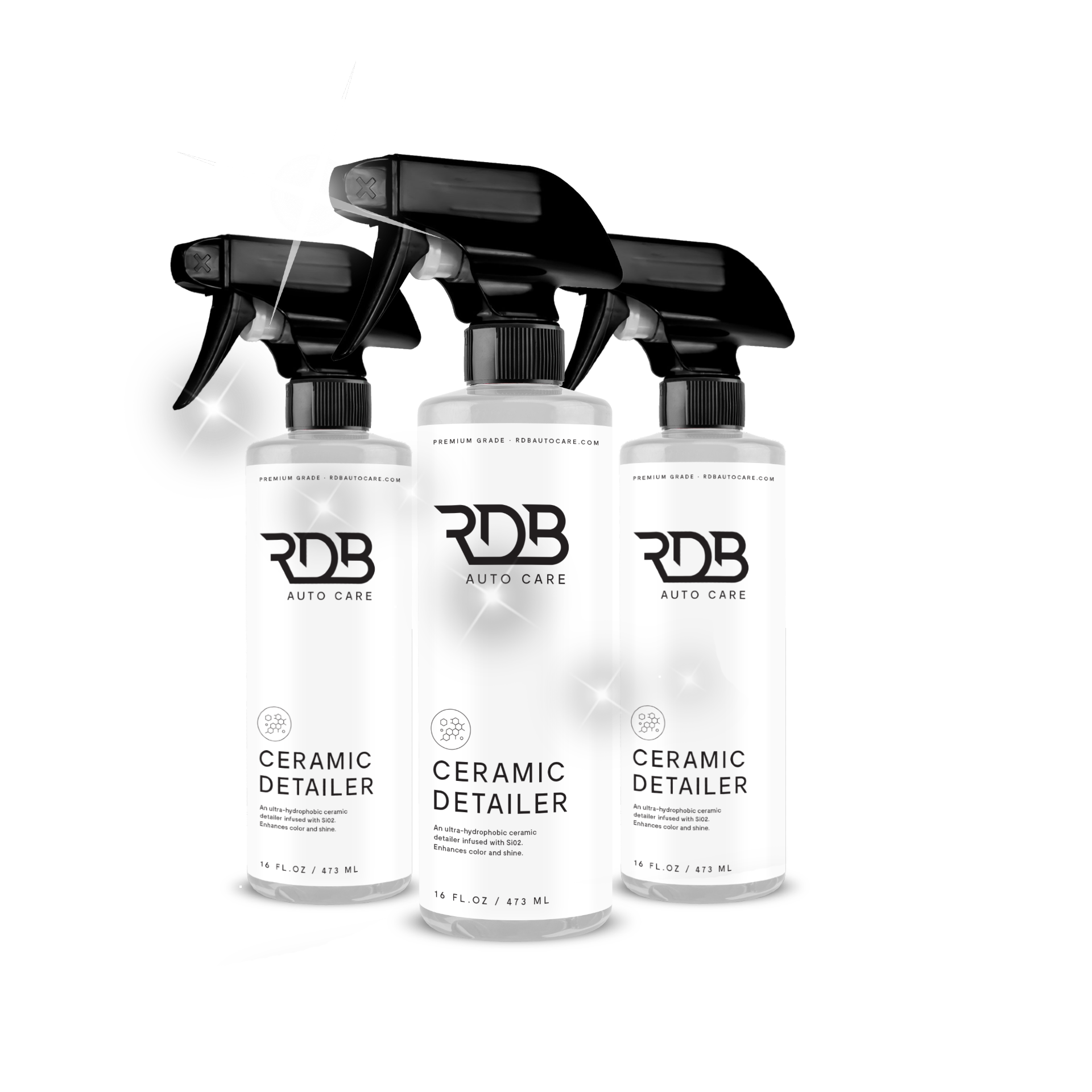 REPELS WATER, GREASE, GRIME, AND BUGS. GUARANTEED

RDB Auto Care's Ceramic Detailer provides a whole new level of paint sealing technology not found in competitors' products. The unique Si02 formula creates a water-resistant shield on your paint that helps keep dirt and grime from sticking to your car's surface. Dried water spots will become a thing of the past after the use of Ceramic Detailer.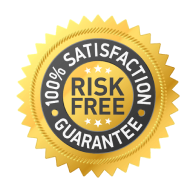 We want you to be 100% satisfied with everything you buy from our brand. And if you're not entirely happy with your purchase we will refund your money in full, or exchange the goods. All we ask is that you contact our customer services and then return the ceramic spray back to us.
3 EAsy steps to superior protection
For best results, apply the Ceramic Detailer to a clean cool surface, out of direct sunlight. Just spray onto your vehicle's surface, wipe evenly with a microfiber towel, then buff out for an unbelievable shine!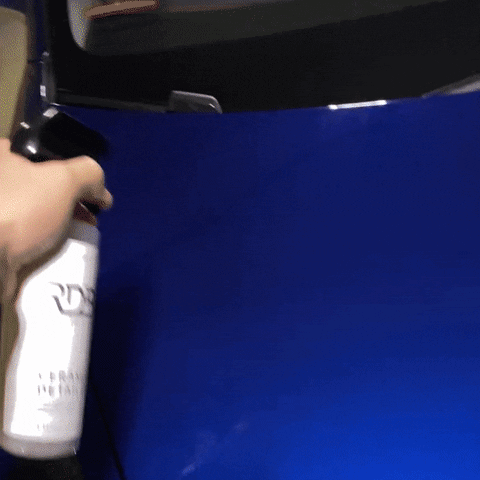 Apply Ceramic Detailer to your vehicle's surface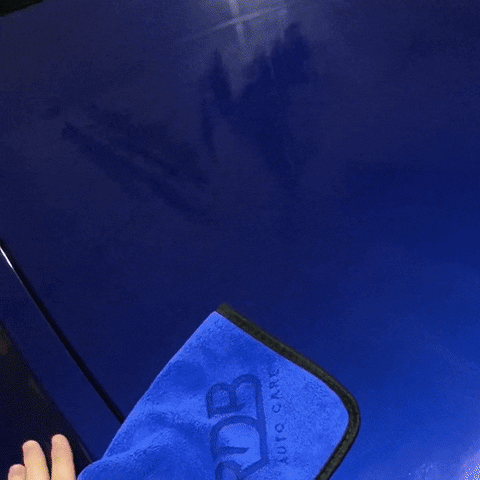 Spread Evenly With A Micro-fiber Cloth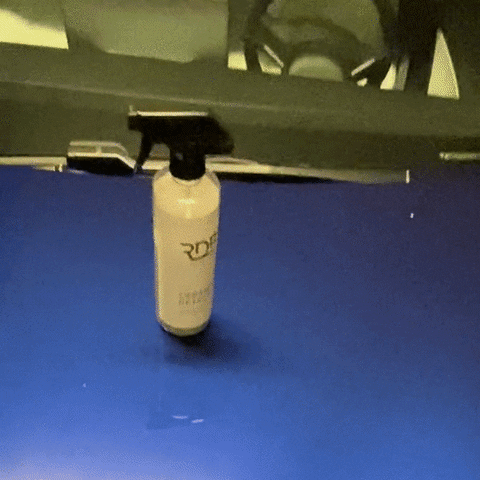 Flip Cloth Over To Dry Side And Buff Away
Your Vehicle deserves the best
U.S.A MADE: Our products are all 100% manufactured in the USA!

WATER-RESISTANT: Our detailer produces a super hydrophobic layer on your paint's surface.


FAST & EASY: RDB's Ceramic Detailer has the fastest application time compared to any other ceramic detailers!

PROTECTION: Protect your paint from SCRATCHES, FADING, and CONTAMINANTS.

QUICK SHIPPING: We ship products out the door within 24-36 hours. All of our orders are shipped via Priority Mail to ensure quick and safe delivery.

​HIGHEST Si02 %: That's right, our custom formulated chemicals provide the highest level of Si02 percentage on the market.

SUPER SHINE: Leaves your paint surfaces looking super glossy, showroom ready!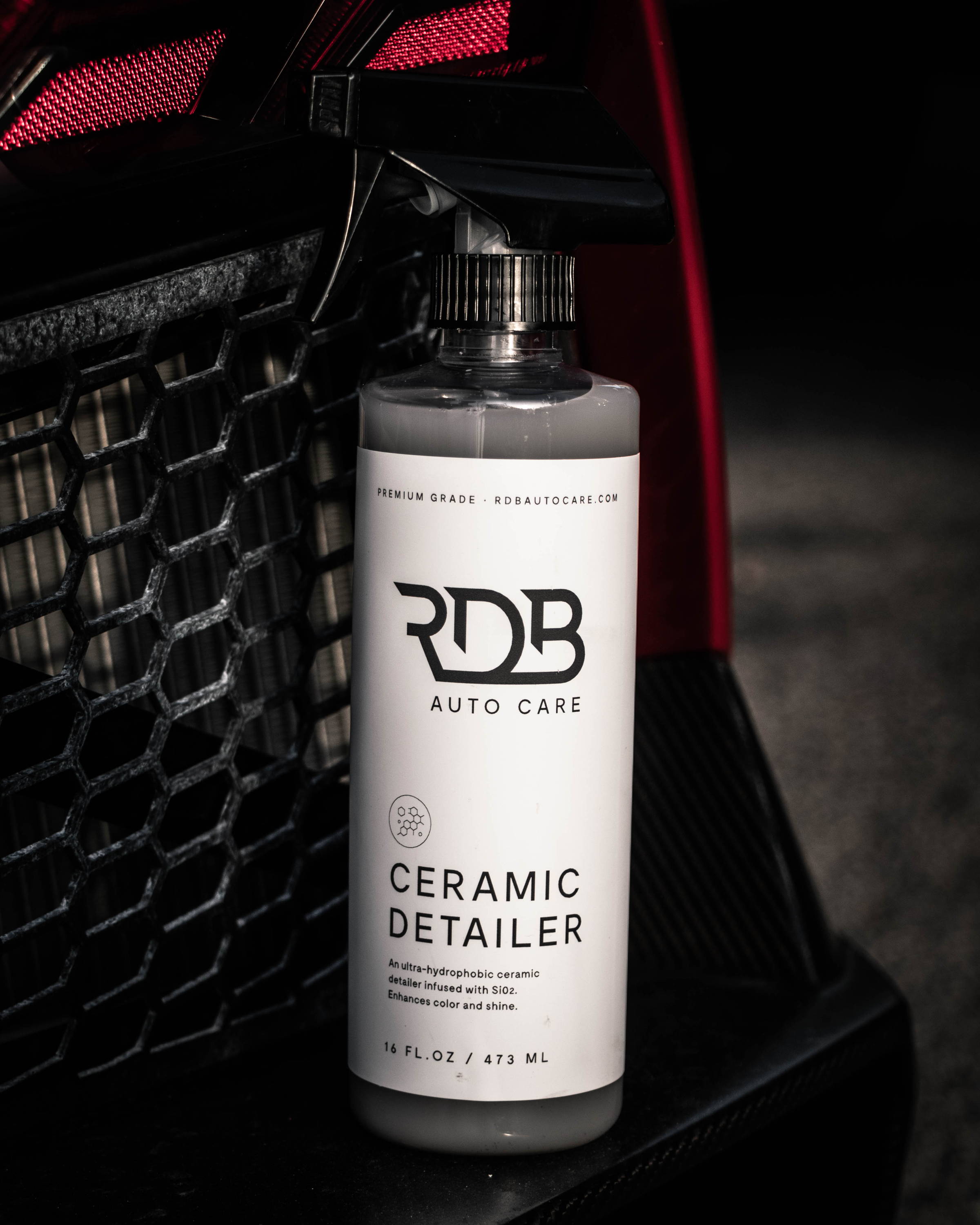 WHAT MAKES THIS THE BEST?
After thousands of tests our team has found the right amount of Si02 to help produce a strong hydrophobic surface.
Our custom formulated blend provides an immense shine unlike any other competitor on the market!
All of RDB Auto Care's products are produced and manufactured here in the United States.
RDB Auto Cares line of products are all produced with the environment in mind. All of our chemicals are environmentally friendly!
THOUSANDS OF REVIEWS
REAL CUSTOMERS, REAL RESULTS

"I just used my first coat of RDB Ceramic Detailer and I must say I'm very impressed. It sprays on clean with no greasy residue being left behind. Living in Georgia we have bugs and construction on all the major interstates and my car is still nice and clean. Will be purchasing another bottle set soon for my mobile detail business!"
I recently came across a fairly random write-up on your product. I had been using Hydrosilex for the last couple years. I was not impressed with the performance and longevity of the product, so I ordered some RDB to give it a try. Your product arrived less than a week after my previous application of Hydrosilex. I wanted to test the two side by side so I applied your product to two doors on my truck. I could actually SEE and FEEL the difference immediately! I was impressed by the shine and the super slick feel after just one application. I washed the truck before applying all the way around, and your product completely repelled the water in an instant. The other product wasn't any better than any carnauba wax product I had used over the years. I was instantly sold, and satisfied that your product WORKED AS ADVERTISED. Having spent the last decade in the paint/plastics restoration and detailing industry, this is the best new product I have tried or used in that time. Thank you for selling a product that lives up to the hype!
"I applied the product. It rained the next day. It stopped raining and seen that my truck was still spotless. HIGHLY RECOMMEND!"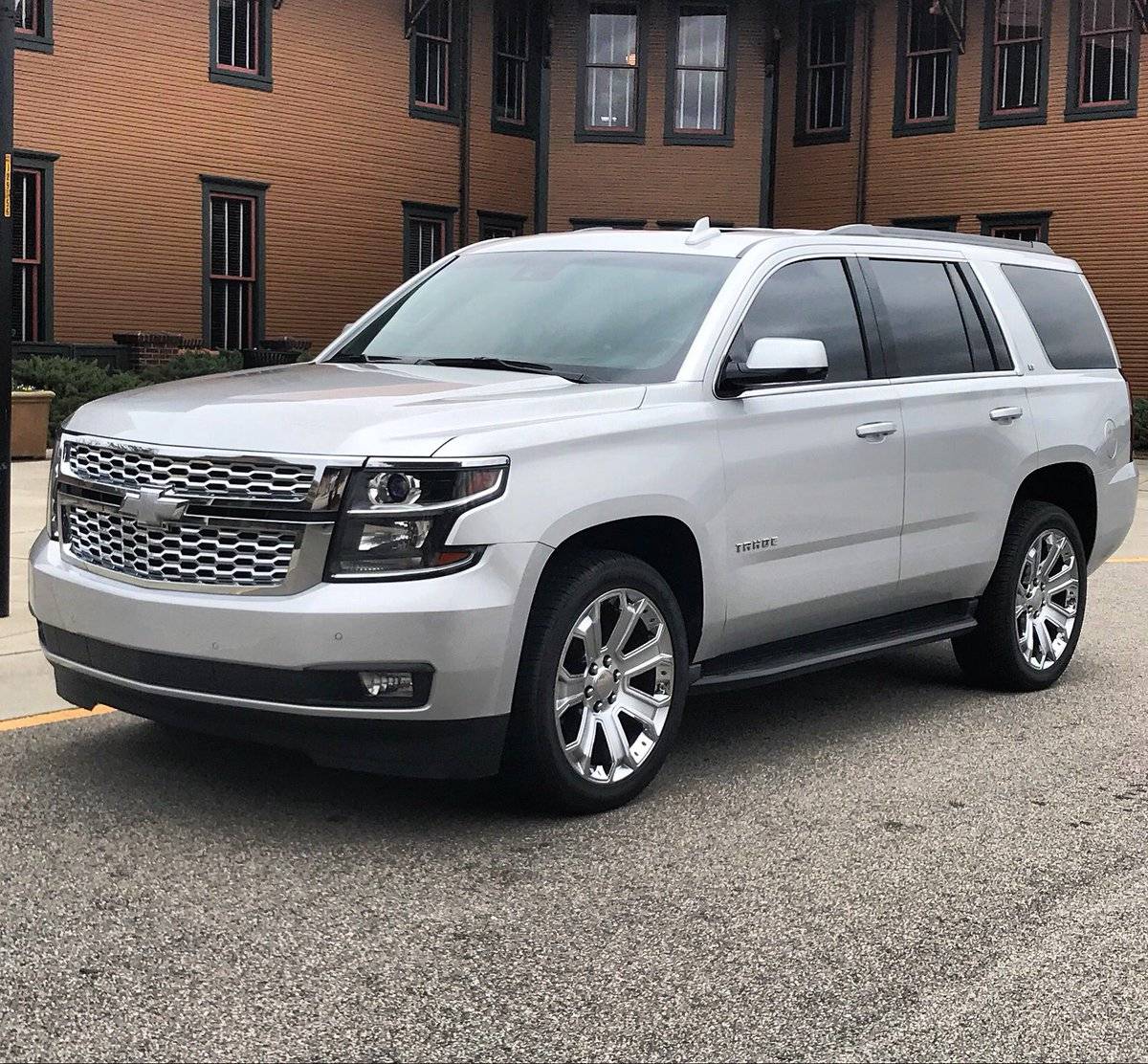 "I had seen the reviews on this Ceramic Detailer for a while and had been interested as everyone with experience using it had great things to say about it. So I decided to give it a try and let me say, I'm certainly not disappointed. The ease-of-use is second to none. it literally cleans and protects at the same time, it doesn't get any easier than that. The first time I had the chance to see the effect it had on water repellent after I ran I went out to check on my car and it was the coolest thing. All the little droplets in the form of beads just almost floating there and with the slightest breeze a vibration they literally just rolled right off the finish. It gives the clear coat a beautiful shine too. Since my first order I purchased a gallon. GREAT STUFF RDB AUTO CARE!!"
"All my life I have always been obsessed with my cars, keeping them clean and washing and waxing them. When I saw this Ceramic Detailer by RDB Auto Care, I bought it right away. I couldn't believe how easy it was to apply and take off. Almost little effort was required, but if you looked at the car you would be amazed at how great it looks and shines. Best product out there. I highly recommend this product and I'm very happy that i bought it, my car has a nice shiny coat on it. Thanks!."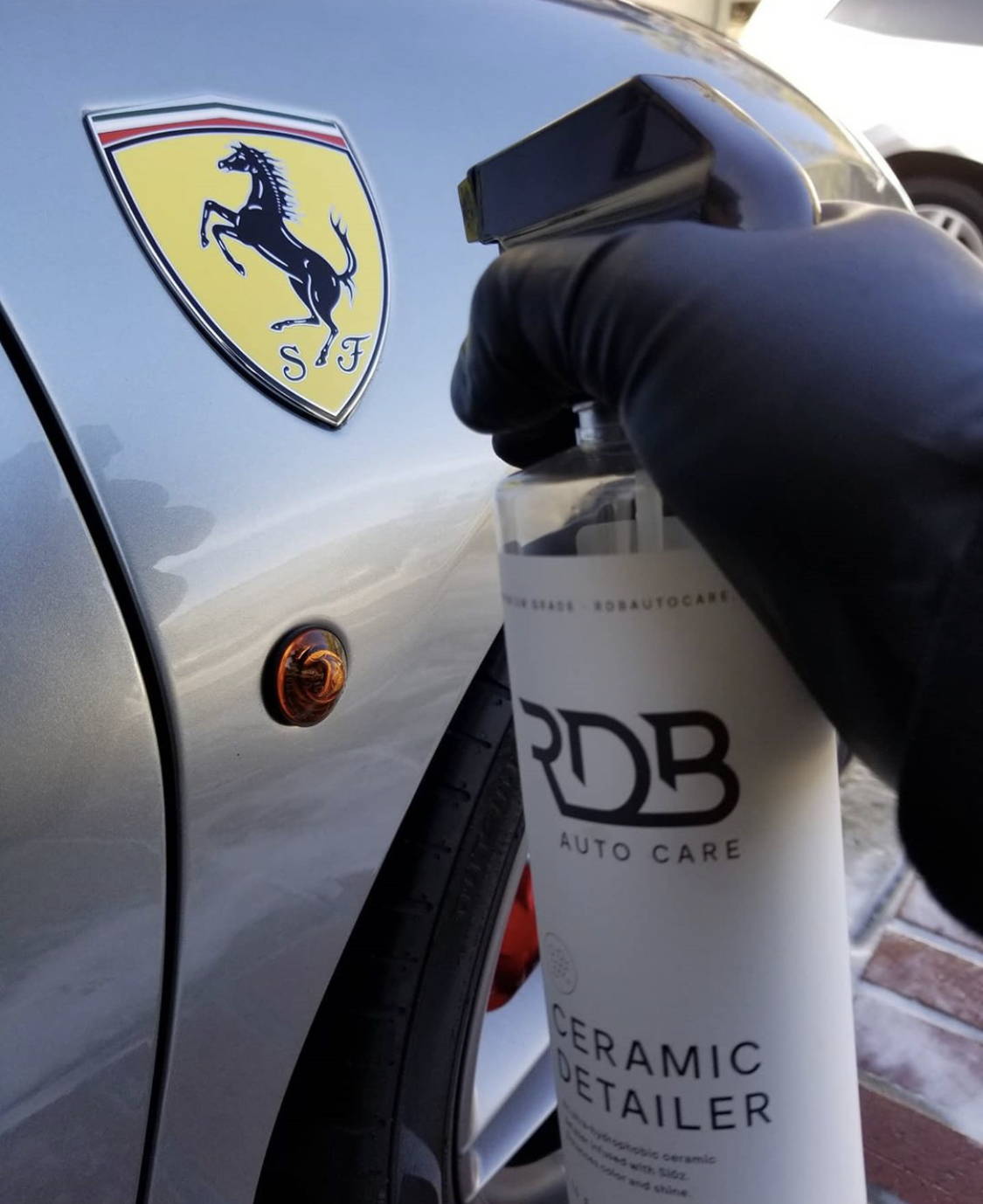 "I applied the product. It rained the next day. My detail client texted me flipping out, at first he was upset because of the rain but he noticed his car had 0 water spots and was clean just like the day before! Dealing with clients here in LA can be a pain but the ceramic detailer 100% helped my reputation. HIGHLY RECOMMEND!"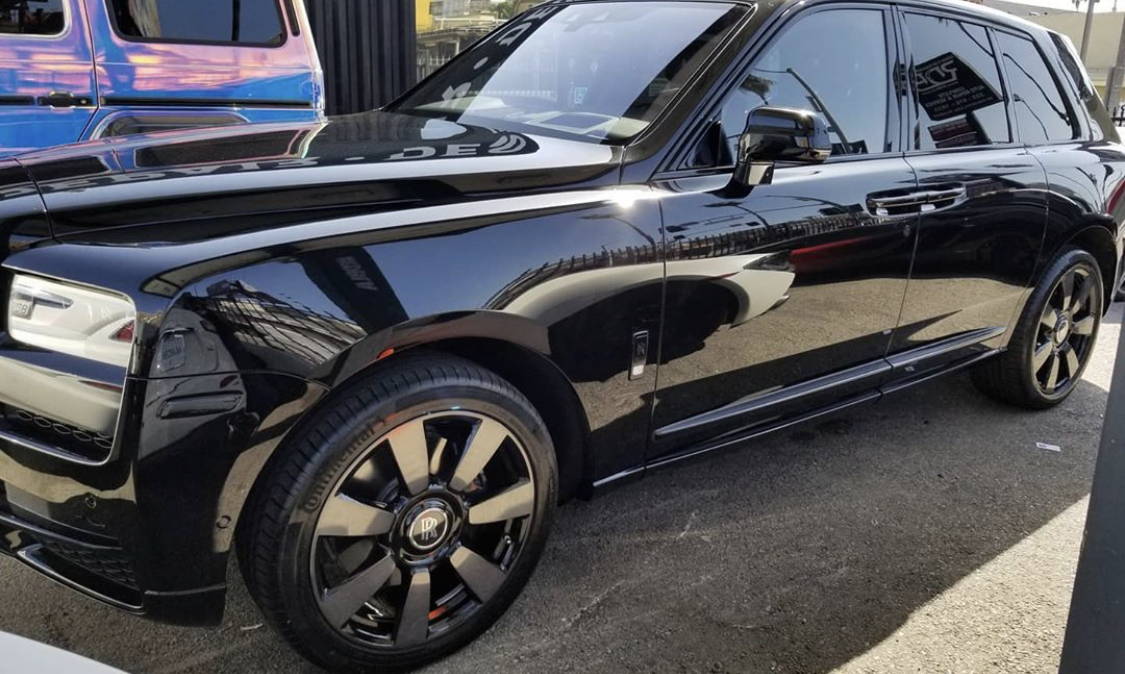 This stuff is a legit all in one product. So I simply prep the surface by washing the car and then occasionally I'll go as far as clay barring ( it helps the product stick better ). It truly does make the feel of the paint so smooth and slick. I took some extra time the first time i used it but the last few times have gone much quicker. I have a Subaru and it takes 20 minutes or so to have a beautiful car! I would recommend to my friends and family. I wont be doing the traditional wash and wax anymore.."
So I was washing my motorcycle last month and I realized it's a little annoying having to deeply scrub down the bike every sunday after my ride. Low and behold I think Facebook was listening to me because I suddenly read the article by Car Detail Reviews and they mentioned RDB Auto Care's ceramic detailer. I ended up buying 3 bottles and I wish I bought more. I washed down my bike and applied it - my next sunday ride left the bike looking MINT afterwards. Really satisfied with the outcome of the product and I highly recommend it!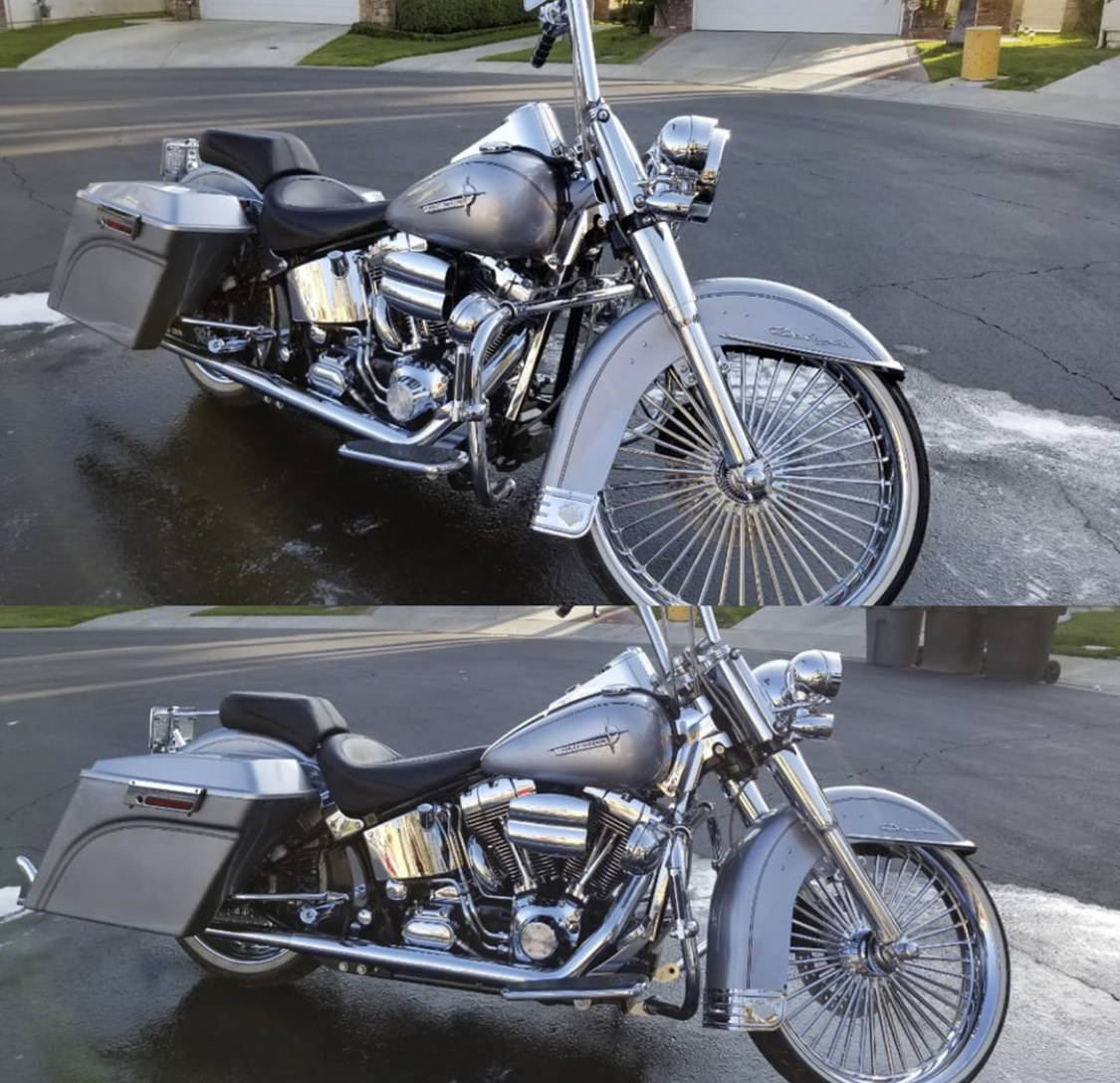 Frequently Asked Questions

Q: Can The Detailer hurt the paint on my car?
No, RDB Auto Care's Ceramic Detailer actually works on sealing your paint to protect your vehicle!
Q: Does RDB Auto Care protect against all environmental conditions?

This product effectively protects any surface against dirt, mud, salt, snow, pollen, smog, acid rain, water spots, bugs, and general road grime.
Q: Does it only work on cars?

No way! RDB Auto Care's Ceramic Detailer works great on trucks, RVs, boats, motorcycles, dirt bikes, and ATVs too.
Q: Can it be applied on a dirty surface?

We highly advise to apply the Ceramic Detailer ONLY to clean surfaces. Claybaring the surface prior to application will help with the results!
Q: How often should I be applying the detailer?

That depends on your area's weather conditions and where you park. The Ceramic protection lasts for 1-4 months after application. The detailer is even more effective when applied regularly. For most users we recommend re-applying once a month for maximum results.
Q: How long does your Ceramic Detailer last?
One coat of RDB Auto Care lasts approx 3-6 months on average. The longevity of the coating depends on how much abuse it takes from physical wear from car washes, hand washes, harsh chemicals, detergents, abusive weather or environmental conditions etc. We recommend reapplying at least every 1-2 months. The more layers you do apply, the better the results will be and the longer it will last!
Q: Is it safe on chrome/windows/plastic/etc?
RDB Auto Care's Ceramic Detailer can be used on all painted surfaces whether denim, matte, satin, flat, or gloss such as clear coated paint systems, water based or solvent based. If attempting to use Ceramic Detailer of lacquer or enamel paint (old original paint on cars from 60's and down) always test on the side quarter panel in an inconspicuous spot first to ensure our product does not affect the paint in a negative way. Enamels are single stage paints and are hard to work with sealers and sealants. Materials Ceramic Detailer can coat, enhance and protect: All plastic and vinyl such as body moldings, window tint, vinyl graphics on RVs, plastic or acrylic windshields on boats and planes, including eisenglass (clear plastic used on boat canopies, jeeps, tonneau covers, etc.). Any metals such as steel, stainless steel, polished aluminum, chrome, and all britework regardless of industry, stainless steel appliances, grills, elevator doors, and more. Rubber, rubber gaskets, door seals, boat bumpers and moldings, engine pieces, etc. All wood surfaces, including teak on boats, outdoor furniture, garage doors, interior wood picture frames, furniture and more. All polished stone such as tile, granite, marble, quartz, corian, ceramic tile found in kitchens and baths. All glass, mirrors, polyurethane, lexan, plexiglass, acrylic, uses: shower doors, windows, glass tables, glass cooktops as long as there is no food prep directly on the coating. Leather from shoes, coats and jackets, car interiors, saddlebags on bikes, dashboards, door panels, bags and more. All rims and tires, engines (Ceramic Detailer is safe with no heat issues and is non-flammable), exhaust pipes on bikes, and more. Incredible on carbon fiber and other materials. Ceramic Detailer can be used on vinyl and cloth convertible tops. Cars, trucks, motorcycles, RVs, boats, airplanes, home, restaurants, bathrooms, and janitorial use too!
Q: Can this be used on boats?
RDB Auto Care's Ceramic Detailer works great on boats! We have tons of marine customers who love it. It lasts about 3 months in a marine environment depending on how much abuse it takes. Remove any oxidation by buffing with a rubbing compound prior to applying Ceramic Detailer.
Q: How much does it take to cover a 40 ft RV / 30 ft boat / car / etc ?
You can typically cover a 40 ft. RV with 8 oz of Ceramic Detailer. Use half trigger pulls as you apply, less is more with our Ceramic Detailer so a little goes a long way. One half trigger pull spray will cover a large area, there's no need to spray every square inch. Your application towel will become wet with the product and turn into a wet wipe where you don't have to spray as much going forward. Most of our RV or boat owners however, purchase the gallon size so they can do multiple coats. See all of our products here: https://rdbautocare.com/collections/all
Q: How far does one 16 oz bottle go?
One 16oz bottle gives you several applications! The average car only takes 1-2oz per application, trucks and SUVs take 2-4oz per application, and it lasts 3-6 months on average!
Q: Is this a wax? A sealer? Does this replace wax?
RDB Auto Care's Ceramic Detailer is a professional sealer formulated to enhance, protect, & maintain any material or surface. It's easy one-step hand application saves time, polishing your vehicle in less than half the time it takes to wax. Coated surfaces are easier to maintain, and they remain cleaner longer. It saves time & money, one bottle of Ceramic Detailer does it all! Multi-surface application eliminates the need for other costly products. Our Ceramic Detailer's clear formula means no unsightly white wax residue is left behind. It maximizes depth of color & shine with minimal effort, and covers up light surface abrasions such as spider-web scratches/swirls. It's the ultimate wax replacement sealer for your auto, bike, RV, plane, and more!
Before Ceramic Detailer is applied, make sure your bike, vehicle, or surface is cleaned first. You can use any products to wash but preferably use products without wax in it, or any synthetic "coating" for "protection" as the Ceramic Detailer won't bond properly on the first application. However, each application of Ceramic Detailer will push out any other coatings that were there and will eventually bond 100% to the substrate. If you want to add several coats of our Ceramic Detailer to your surfaces, wait at least 24-48 hours between coats to ensure effective performance. Multiple, consecutive coats can be applied, but you will not achieve the benefits as you would by allowing one application to "set up" or "cure" first within the stated time frame. Clay Bar: If you have any contaminants in the paint, overspray, or hardened fallout where you need or want to Clay your paint, you can clay the surfaces and use Ceramic Detailer as the lubricant, thus claying and applying a layer of it in the same step. Our Ceramic Detailer works amazing with clay bars.